There are so many amazing books about astronomy and space! But which ones are best for the littlest space explorers? Here is WonderDome list of top 10 "must-read" space books!
There is no place like space: all about our Solar System

by Tish Rabe
Buckle up for an exciting journey through the Solar System with the Cat in The Hat! Learn all about the planets and how to remember their names, constellations, the Sun and the Moon.
The book was written by Tish Rabe who continued the Cat in the Hat learning library series after the death of Dr Seuss in 1991. Watch out, the classic edition lists 9 planets and the revised edition has only 8 planets. Sorry, Pluto!
Margaret and the Moon

by Dean Robbins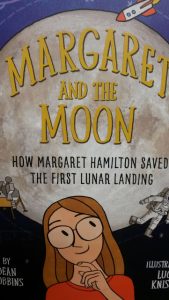 Why didn't more girls grow up to become scientists? Margaret had a solution! She would study hard and become one herself!  Wonderful and inspiring story of Margaret Hamilton, a software engineer who helped to land astronauts on the Moon. Margaret Hamilton led a team of scientists that wrote computer codes for NASA Apollo program and later for Skylab space station. Listen to the book here: https://www.youtube.com/watch?v=telH4I3f92Q
Counting on Katherine. How Katherine Johnson put astronauts on the Moon

by Helaine Becker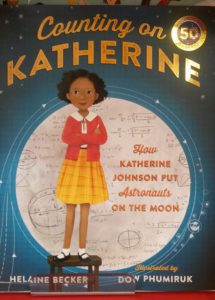 Another true story book about a woman scientist behind Apollo. "Counting on Katherine" tells a story of a mathematician called Katherine Johnson. As a child, Katherine was very gifted in mathematics. She finished high school by the age of 14 and graduated from university by 18 (by the way, she had to move towns as her hometown high school didn't admit black students). Katherine started working at NASA as a "human computer" and then moved on to work on flight paths for NASA space missions.
Katherine Johnson calculated trajectories for the successful flights of Alan Shepard (the first American astronaut in Space) and Scott Glenn (the first American to orbit around the Earth) as well as for historical Apollo 11 and Apollo 13 missions.
Goodnight Spaceman

by Michelle Robinson and Nick East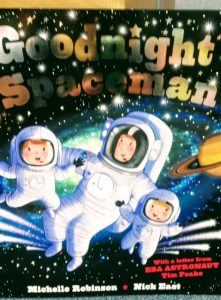 This is a wonderful bedtime story for the tiniest astronauts that will bring good dreams about rocket ships and far away galaxies.
Listen to the book here: https://www.youtube.com/watch?v=96WyTyHpouU
The darkest dark

by Chris Hadfield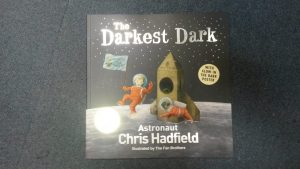 Delightful story about overcoming your fears and following
your dreams from one of our favourite astronauts! 
Listen to the book here: https://www.youtube.com/watch?v=sL-XDombcw8
What's it like in Space

Usborne book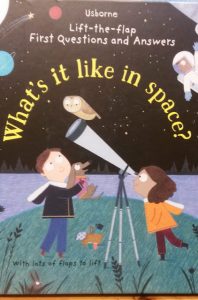 Lift-the -flaps to find answers to the most burning questions, like…
What's it like in Space? How do you get there? Where can you go in space? What do astronauts do all day? Could we actually live on Mars? What else is in space? And, most importantly,…Can I be an astronaut? 
Wonderful colourful illustrations on a plain background, short and funny answers – perfect for the littlest space explorers.
Listen to the book here: https://www.youtube.com/watch?v=7zdY0KHZHsI
The Big Beyond: The story of Space Travel

by James Carter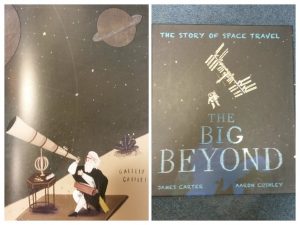 It all started with early stargazers who looked at the night sky, asked big questions about what's out there and spotted first constellations. Then there were telescopes that helped us discover new planets and rings and moons. Next, we launched the first space rockets that allowed animals and humans to  travel into space. Finally, we landed on the Moon. Could it be you to go into space next? 
"The Big Beyond" is a brief history of space exploration for the very young. 
Listen to the book (read by its author) here:https://www.youtube.com/watch?v=BMg9C57LPT4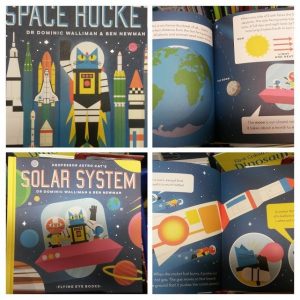 Professor Astro Cat by Dr Dominic Walliman and Ben Newman is a wonderful series for curious children! Our favourite Astro Cat books are…
Professor Astro Cat's Solar System

and

Professor Astro Cat's Space Rocket

 
Cool facts, excellent explanations and out of this world colourful  "retro style" illustrations!
Spectacular Space

by James Olstein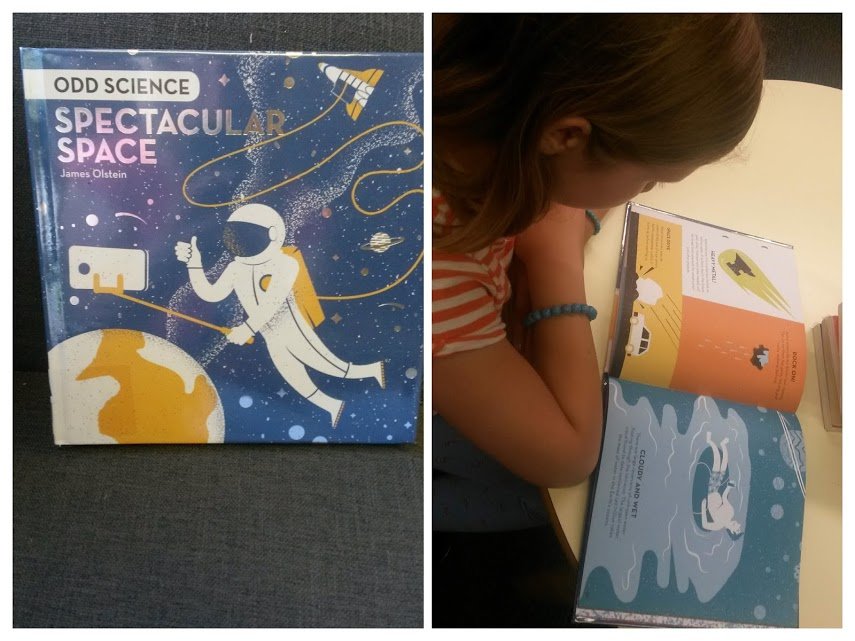 How big is the Sun? Can you cry in space? How to spot a black hole? Is there a diamond planet? How long will it take to get to Pluto on an airplane?
Full of mind-bending facts about planets, stars all all things space-y, the "Spectacular Space" is one of our favourite books about space that the curios kids as well as their parents and grandparents will definitely enjoy!
What is your favourite book about space? Let our inflatable stardome team know!
Check our space blog for space books reviews, classroom activities based on popular children space fiction and more.
Happy reading!