Manchester Mobile Planetarium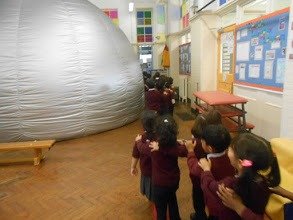 Our Manchester mobile planetarium serves Manchester and the surrounding area.
We regularly visit all types of school in the Manchester area and provide planetarium shows that teach the children and young adults about the wonders of the Universe.
Our shows will take you on a wonderful educational journey through space. Learning about the planets in our solar system, the constellations, night and day and why planet Earth is so special. We have a wide range of shows that can be adapted for individual classes which means every visitor is able to enjoy and learn from this experience.
Each of our shows include an incredible mix of visual displays that are 360 degrees (similar to IMAX cinema) and presenter-led which allows a very personal experience. Our presenters are extremely knowledgeable and will answer questions throughout the show and after. This allows visitors to the dome a greater understanding of the subject they are learning. We've had some really interesting questions in the past!
The Wonder Dome Planetarium is an excellent way to learn about the solar system and has shows suitable for all groups of children:
For detailed information about what the Manchester mobile planetarium can deliver to your organisation, please follow these links:
preschool
primary school
secondary school
special education
scouting groups
Schools in Manchester we have visited over the past few years are:
Bench Hill Primary, Gorton Mount Primary, St Anne's Primary, St Damien's  Primary, All Saints Primary, Beaver Road Primary
Boarshaw Community Primary, Wellfield Infant, Audenshaw Primary, Flowery Field Primary, Beaver Road Primary
We can visit you for either a half or a full day. Our visits can be tailored to your needs which means we can start and finish at specific times or take down the dome over lunch if you use the hall for dinners.
The length of the shows can also be adapted if you need to include a larger number of classes for example. However, we do recommend that shows are at least 20 minutes in length for visitors to really appreciate the planetarium experience!
We enjoy visiting Manchester to deliver our mobile planetarium shows. Please contact us for more information.
We look forward to hearing from you.