Our Derby Mobile Planetarium delivers educational and inspiring space related shows to the City of Derby and surrounding area.
We will visit your s chool or other organised groups to lead sessions on all matters related to space and astronomy. All we require is a large space such as a church or school hall where we can set up the Derby Mobile Planetarium and then you can bring along groups of up to 30 children to have an incredible visual experience inside the planetarium.
All our shows involve showing 360-degree visual effects which fully immerse the learners in space.
We have had children reporting back that they actually felt as if they were flying through the rings of Saturn.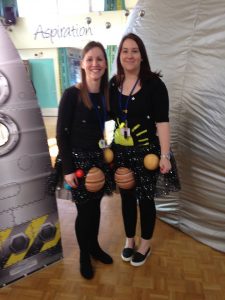 We have a wide variety of shows that are appropriate for the different needs of our visitors. We have a show specifically designed for the under 4-year-olds which tends to be shorter and may even involve a little singing! Then for primary aged children, we have shows which target specific areas of the school curriculum, as well as providing shows of general interest if space is not on the curriculum for a certain year group. We have advanced shows for secondary aged children and for children with special educational needs we can arrange bespoke shows that ensure your learners are fully included in the learning outcomes.
A normal day will consist of either a full or half day's booking. We aim to arrive at 8 am and have the dome and all the equipment set up and ready to start the first show by 9 am.
The number of shows and type of content covered is dependent on your needs, however, we normally run 3 to 4 shows in the morning and this can be repeated in the afternoon.
The feedback we have received from our visitors has been incredible. We have had letters, tweets and Facebook likes all saying what a wonderfully positive experience coming to the Derby Mobile Planetarium was.
Derby has some fantastic museums, which Wonderdome highly recommends.