Mobile Planetarium In Action.
If you have not seen how mobile planetarium works, here is some information.
Wonderdome will bring the planetarium to your school All you need to do is to book a visit via our booking form. Wonderdome will assist with all paperwork necessary such as risk assessment, Public Liability and DBS checks for presenters. You can also find a template for a letter to parents and information brochure along with other resources on our resource page.
The planetarium takes around 30-40 to set up. The best location is sport or lunch hall. The height of the planetarium is 3.7 meters and it is 6 meters in diameter. The planetarium can accommodate a whole class with teachers and support staff. The planetarium is also wheelchair friendly.
Once the planetarium is set up our knowledgeable presenter will run shows according to a pre-agreed timetable. We have a range of topics but we can also offer custom made content. The recommended length of the shows is between 30 to 60 minutes. The length depends on the age and abilities of the audience.
Inflating the dome in a school hall.
What does Wonderdome do?
Wonderdome provides amazing planetarium shows that create a unique learning experience brought to your school or organisation. From the outside, it looks like an impressively large dome which is filled with air from a strong fan. It is lightweight and can be transported to schools, church halls or other large areas where it is inflated. Inside the dome, there is specialised visual and audio equipment which projects onto the inside of the planetarium giving a 360-degree experience which is totally immersive. The environment created by the dome is completely dark and immerses the visitor into a wonderful experience of the universe!  Wonderdome is an inflatable planetarium. There are also fixed planetariums which can be found at places such as museums and other specialised locations.
---
Our planetariums can be set up in just about any large indoor space which means you don't need to travel anywhere to enjoy the experience. This makes booking our services very cost effective ! Then all you have to do is come along to your Hall and enjoy the experience. It is an incredible way to learn about the wonders of space due to the unique environment the dome creates. All sessions are led by presenters who are passionate about space and will happily pause the show to answer questions from the learners. If you are looking to have visits from planetariums in the UK Wonderdome provides high quality presenter-led interactive shows.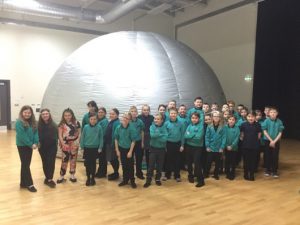 Who can visit Wonderdome?
Planetarium school visits are very popular due to the ease of arranging and 'wow' factor for the learners! We have a wide range of shows that will suit for pre-school aged, primary, secondary and adults visitors. We also provide excellent shows for SEND groups. Our school shows are linked to the National Curriculum of both Primary and Secondary Schools. We also provide additional shows for special events such as Scout Groups, Parties and other organisations.
Recent Posts