Nottinghamshire Mobile Planetarium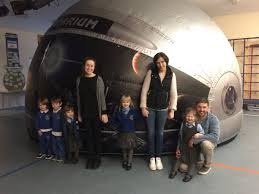 The WonderDome Nottinghamshire Mobile Planetarium mobile serves Nottingham and surrounding area. Over the past years, we have successfully visited numerous schools including; primary, secondary and special educational with our mobile planetarium.
We have delivered a range of space shows to a variety of age group ranging from nursery to secondary school pupils. We also have extensive experience in working with the special school in providing mobile planetarium shows.
Hundreds of pupils at these schools had the opportunity to enjoy our space shows and experience in-school Wonderdome mobile planetarium visit.
For detailed information about what the Nottinghamshire mobile planetarium can deliver to your organisation, please follow these links:
preschool
primary school
secondary school
special education
scouting groups
The schools, which WonderDome space dome has visited include:
From Rachel Eyre, Class 2 Teacher at Carlton Digby School:
Hi, Just to say a REALLY BIG THANKS for visiting Carlton Digby today. It was fantastic and the pupils (and staff) had a wonderful time! Thanks again.
From Mrs Sophie Sharp, Foundation stage leader at King Edwin Primary
Hi, just wanted to thank you for a fantastic day! The children absolutely loved the WonderDome- as did the adults! It completely surpassed my expectations. So engaging and lots of fun. I really can't thank you enough for such a wow and memorable event.
Horsendale Primary School, Southglade Primary School, Westdale Lane Infants
Djanogly Northgate Academy, Meden School, Glapton Academy, Manor Park Infant
Our shows will take you on a wonderful learning journey through space. Learning about the planets in our solar system, the constellations, night and day and why planet Earth is so special.
The Wonder Dome Planetarium is an excellent way to learn about the solar system. We can visit you for either a half or a full day. We enjoy visiting Nottinghamshire to deliver our mobile planetarium shows. Please contact us for more information.
If your learners would want to expand their knowledge of space, astronomy and other planetarium related matters The University of Nottingham also offers support, recourses and some access to their stargazing equipment such 11-inch Celestron Schmidt-Cassegrain telescope.
Aside from having our mobile planetarium bringing you mobile space shows, there are plenty of other STEM related scientific discoveries are to be made for the young scientist in Nottingham and the local areas. Green's Mill – a restored and working 19th-century tower windmill, which in the  early 19th century it was owned and operated by the mathematical physicist George Green (1793-1841) and Nottingham Industrial Museum