Wonderdome blog updates
We have a couple of updates on our previous blogs.
The first is exciting for Wonderdome Planetarium!
A prestigious observatory in the USA has requested to repost one of our articles.
The second update also concerns the USA.
We look at the status of the Artemis moon project.
Lowell Observatory
In August, we published a blog about my visit to Lowell Observatory in Flagstaff, Arizona.
It resulted in a wonderful link between Lowell and Wonderdome Planetarium.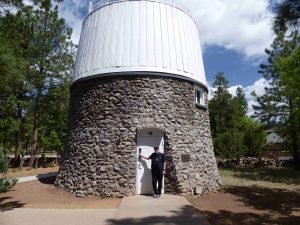 Pluto Dome at Lowell.   Photo: Dennis Ashton
I am delighted to say that the staff at Lowell enjoyed reading the blog.
They liked it so much that they asked if they could use it alongside their articles.
The Wonderdome blog has now been reposted on the Lowell site.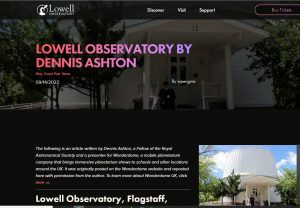 Image: Lowell Observatory.
The Lowell Observatory is one of the most historic astronomical institutions in the world.
In 1930, Pluto was discovered there.
It's a privilege for Wonderdome to share a link with this famous astronomical site..
For me personally, having my words appear on the Lowell website is a great honour.
Thank you Lowell!
The Lowell blog pages contain superb articles about all aspects of astronomy.
Please take a look by clicking Lowell Observatory Blogs.
Artemis Update
In a previous blog, we looked at the new NASA Moon rocket.
The Space Launch System, SLS, is the delivery vehicle for the Artemis project.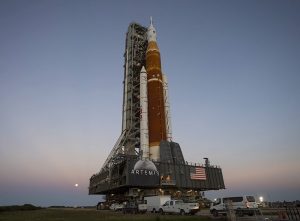 SLS roll out.   Photo: NASA
Artemis 1, an unmanned mission, should have launched in August.
But fuelling problems caused two postponements.
Now the likely launch date is in late September or early October.
The main problem arose as the rocket was being fuelled.
There was a leak of super cold liquid hydrogen which delayed then prevented launch.
The Artemis team had to replace seals in the rocket fuel line.
They hope that the repair will solve the leakage problem.
Artemis 1 now has a launch window of 70 minutes on September 27th.
There is a backup date of October 2nd.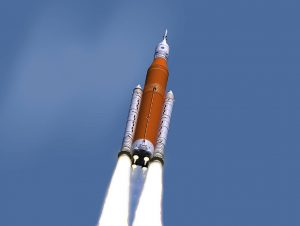 SLS launch, artist impression.   Credit: NASA
The key test will take place on 21st September.
If all goes well, Artemis 1 will go on its way to circumnavigate the Moon.
It's the first step on our return to our nearest neighbour in space.
The author: Dennis Ashton is a Fellow of the Royal Astronomical Society and a Wonderdome presenter.
Would you like to hear more  Astronomy news?
Do you want to to find out about our upcoming public events?
Follow WonderDome Portable Planetarium on Twitter and Facebook or go to our web site wonderdome.co.uk!