Derbyshire Mobile Planetarium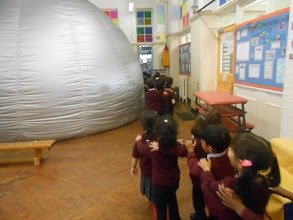 We deliver our mobile planetarium shows to Chesterfield, Mansfield, Matlock, Belper, Worksop, Derby and all other Derbyshire areas. Over past years we have visited and had a great feedback from many schools and organisations in the area who booked the Wonderdome Derbyshire mobile planetarium. 
For detailed information about what the Derbyshire mobile planetarium can deliver to your organisation, please follow these links:
preschool
primary school
secondary school
special education
scouting groups
Here are just some example of the schools in Derbyshire we have visited and what they had to say about us.
Croft Infant: KS1 Purple class visit
Last week the Children in Year 1 enjoyed a visit from the Wonderdome planetarium – we learned all about the different planets, how they orbit the sun, and about constellations of stars.  
[/colx]
Just wanted to say a massive thank you for coming to our school.
Everybody has commented on how great the dome was and yourself and colleague. We all enjoyed the experience and the children are even more inspired and intrigued about space after your visit.
Thank you again,
Hannah
What did you think of our show content? Very Satisfied
What did you think of our show content?Excellent
Dallimore Primary and Nursery School: 
How satisfied are you with the Wonder Dome planetarium show? Very Satisfied
What did you like about the show? The presentation was at exactly the right level. The presenter involved all the children. They were inspired and enthralled.
Our mobile planetarium can be booked to cater for science week topics, as              a wowfactor for a beginning or the end of the National Curriculum science and astronomy related topics and more. You can also embedded a visit from mobile dome to support your cross-curriculum activities that involve maths, English and art.
Hadfield Inf, Ridding Primary, St Elizabeth Primary, Bolsover Infant and Nursery School, Brockwell Junior, Nothwingfiled Primary,Grassmoor Primary,  
Fairplay supports children and young people with disabilities and additional needs;
Also find us at Matlock Farm this summer: http://matlockfarmpark.co.uk/whats-on/