Are you an Astronomy enthusiast on a lookout for a space-themed, family-friendly public event this Summer?
How about a space exhibition, an astronomy talk and a visit to an active research facility – all in one place?
Recently, one of our WonderDome inflatable planetarium families visited Jodrell Bank and they thought it was an awesome place to spend a day and soak up some science! Have you been there yet? Because we think you should!
What is Jodrell Bank?
Jodrell Bank is a radio observatory and a visitors centre in Macclesfield, Cheshire. It is owned and operated by the University of Manchester. The observatory's main jewel, the 67 meter Lovell Radio Telescope, has been in business for the past 64 years (as of 2021). Today this telescope helps astronomers unravel mysteries of some of the mind boggling objects in the Universe, like the black holes, pulsars and quasars. 
In July 2019 Jodrell Bank received the status of UNESCO World Heritage Site in recognition of its 'science and cultural impact'. You will find more information on what makes the observatory so special on UNESCO website.
Also, since July 2019 Jodrell Bank is officially the headquarter of the international project SKAO, or Square Kilometre Array Observatory. SKAO is a multi-government initiative to build the biggest radio telescope in the world. Unlike Jodrell Bank's Lovell telescope, SKAO would be not a single giant dish, but thousands of small dishes [two main sites are located in South Africa and West Australia]. Once completed, these telescope will work together as if they're one enormous radio telescope and give us an unprecedented view of the Universe!
HERE ARE 5 THINGS TO DO AT JODRELL BANK that we think you might enjoy (we definitely did)!
1. Spot the dish
Jodrell Bank is home to the mighty Lovell Telescope, one of the largest* fully steerable radio dishes in the World. Standing 89 meters tall, the big dish is a signature landmark of Cheshire. If you are lucky, you might see the telescope move (it can spin around and tilt). What a treat! There are also a number of smaller radio telescopes on site for you to spot.
*If you would you like to 'see' an even bigger dish, take a virtual Tour of the 100m Effelsberg radio telescope!
2. Hear an astronomy talk (and ask the presenter all your burning space questions afterwards!)
What is a radio telescope? Where is the dish pointing right now? What kind of things can the Lovell Telescope observe? Can it 'see' during the day? The answers to these and many other questions you will find out during one of the Jodrell Bank's telescope talks. We've been to several Jodrell Bank talks and we found them fun and informative!  
3. Admire an award-winning space photography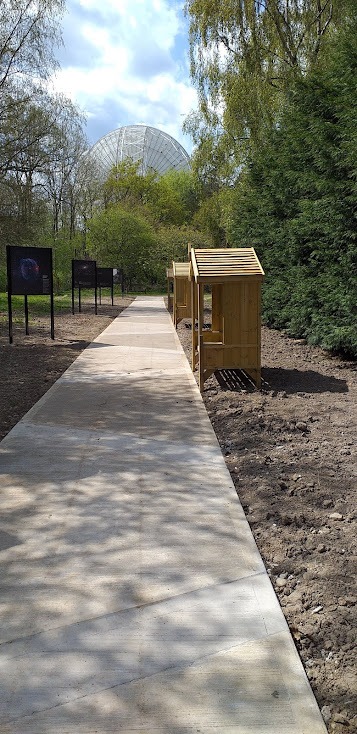 Jodrell Bank is currently hosting the Royal Observatory's Astronomy Photographer of the Year 2020 exhibition and some of the most inspiring astro-images from all around the world can be found in the Discovery Centre. Make sure to watch the video [screened in the Space Pavilion] on how some of those out-of-this-world images were created!
One of our favourite astro-photos from the exhibition was 'The Prison of Technology' by Rafael Schmall, the winner in the category 'People and Space'. This rather sad image captures the star Albireo (it is in fact a double star located in the constellation Cygnus the Swan, and depicts the 'head' of the swan) with many satellite trails crisscrossing the night sky in front of it. Both professional and amateur astronomers have been recently expressing their concern about satellite mega-constellation ruining** the night sky and this image fits only too well with the conversation.
** For more details see our post Will the light pollution from satellite constellations ruin the the dark sky?
4. Whisper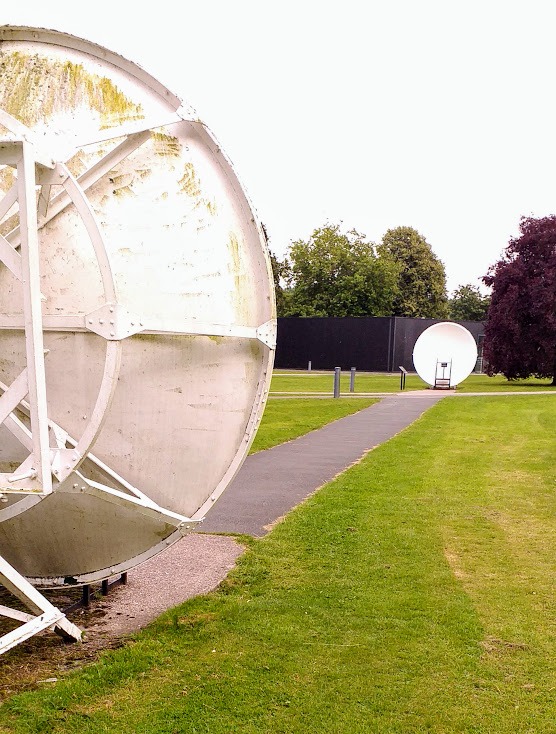 Those two dishes facing each other 250 feet apart might not look much, but the queue of exciting children (and grown-ups!) is there for a reason. Those are whispering dishes and they are so much fun! You can use them to communicate to whoever is standing by the other end. Just remember: whisper, don't shout!
5. Put your hands on science. Literally.
There are lots of science experiments and hands-on expositions at Jodrell Bank. Some of them are located outdoors, next to the Big Dish, others are housed in the Space Pavilion and Planet Pavilion. And no, those interactive displays are not just for kids. Make sure to have a go and learn a thing or two about telescopes, light and whatnot.
Other things to see at Jodrell Bank
Arboretum
As you may know, Jodrell Bank is not only a visitors centre and a radio observatory,  but also a beautiful 35 acre arboretum. Sadly, at the time of our visit the arboretum  was closed to the public [we were told it was in need of some maintenance work]. Luckily for nature lovers and tree enthusiasts, arboriculture, or trees and shrubs planting, was one of the passions of Sir Bernard Lovell the 'father' of the Lovell telescope. So less than 5 miles away from Jodrell Bank you will find another Lovell's arboretum, the Lovell Quinta Arboretum (map) which is open for visitors. We didn't have time to stop by, but apparently you can see the Lovell Telescope peeking through the trees Sir Lovell planted! Another time!
First Light Pavilion
There is a major construction going on at Jodrell Bank site. The new First Light pavilion, the stunning building inside a hill, is being built right now. The new pavilion is due to open in 2021. It will host new galleries, interactive exhibitions and a planetarium. We can't wait to visit it! 
All in all, we loved visiting Jodrell Bank. We spent about 5 hours on site including a generous picnic break. You can make it a short visit (still, allow around 1.5 hours) or spend a whole day there! Enjoy!